HeroesCon 2010!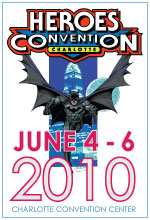 If you're in Charlotte, NC, this weekend, be sure to visit HeroesCon 2010 at the Charlotte Convention Center and, while you're there, stop by and see the Creepspace gang. We're at table AA337 in the small press section; just look for the big poster of yours truly.
And fear not, fright fans: we have plenty of copies of The Witch Game on hand.
Crawlie
This entry was posted on Friday, June 4th, 2010 at 11:09 pm and is filed under News. You can follow any responses to this entry through the RSS 2.0 feed. You can leave a response, or trackback from your own site.