E-fiend contest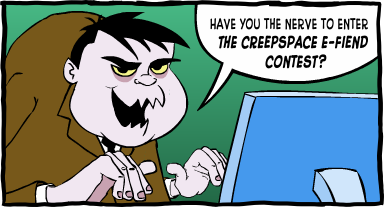 Just in time for the holiday season, the Creepspace E-fiend Contest is on. Become an e-fiend of Creepspace between now and midnight on December 15, 2009, and you could win an autographed copy of Creepspace: The Witch Game plus a Creepspace T-shirt!
How to enter
Do one or more of the following:
The more ways you enter, the more chances you'll have to win. So, for example, if you comment on this post and follow Crawlie on Twitter and add The Witch Game to your Anobii bookshelf, you'll be entered three times. Then, on December 16th, we'll put all of the entries in a hat and draw a winner. The winner will then be contacted for T-shirt preferences, mailing address, and so on. And, yes, if you're already an e-fiend in any of the ways mentioned above, you're already entered in the contest.
So start e-fiending Creepspace – and good luck!
Tags: contests
This entry was posted on Tuesday, November 17th, 2009 at 5:02 pm and is filed under News. You can follow any responses to this entry through the RSS 2.0 feed. You can leave a response, or trackback from your own site.